Grafika Soča
Committed to printing and bookbinding over 75 years
GRAFIKA SOČA was established at the end of 1947 as a small bookbindery, which used to help organise papers/materials for the Gorica Archive following the return of Primorska to the Motherland. The company bought its first printing press in 1961, and thereafter the development of the printing part of its production began. Since 2007, Grafika Soča has been a member of the Mladinska knjiga Group.
Today, Grafika Soča wholly controls the process of creating printed matter; from print preparation to printing and various types of bindings.
Grafika Soča, d.o.o.
Sedejeva 4, 5000 Nova Gorica, Slovenija
Registration number: 5048524000
VAT ID no: SI52502228
NKBM bank account: SI56 04750-0000467494
NLB bank account: SI56 0292 30 26 1543 083
The company is entered in the court register of the District Court in Nova Gorica under registry entry 2008/20464.
Subscribed contribution: EUR 850,000.00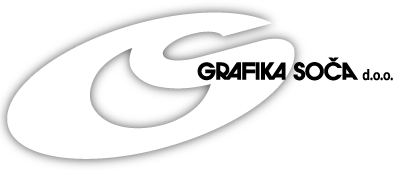 At Grafika Soča we help companies and institutions to create  added value, strengthen their reputation and preserve clients' trust through state-of-the-art printed material of the highest quality: books, brochures, magazines of smaller and mid-sized editions, and labels for packaging. Whether the projects are simple or more demanding, we provide each of our clients with an individual approach and solutions tailored to their requirements. We believe that attitude is a key component of our service. Therefore, our employees are devoted to each new printing business as if it was their first, and we don't view our clients as mere customers but rather as our co-workers and long-term partners.
We carry out our mission with:
the excellence of all production process phases and careful quality control
cooperative, fair and friendly communication
the commitment of the whole team to each project and client
overall individualised service that is based on cooperation
With modernisation of the printing production process and by putting professionalism, knowledge, cooperation and good relationship in first place, we will become a company:
that is increasingly chosen by more clients as a partner for their printing business and recommended by them with pleasure to others
whose increased visibility leads to added value of a client's printed matter
where every employee has a desire, opportunity and the will to contribute to excellent execution of each client's order
We implement social and environmental responsibility as individuals and a company.
We are committed to maintaining fair and responsible attitudes, which exceed the defined minimum standards, towards employees, clients, suppliers and owners.
Our company's activities contribute to a better life in the community. We help various societies in organising events, donate surplus materials to schools and charity organisations, and organise visits to production facilities for educational purposes. We provide rehabilitation in work and employment for people with mental health and physical impairments.
We comply with the requirements of the Slovenian environmental legislation. We do not use any dangerous materials and do not produce any dangerous waste in our production process. We regularly monitor the consumption of resources and measure the impact on the environment. We decrease the impact of our activity on the environment and living space.
Our clients include
Mladinska Knjiga Založba, MIŠ založba, DIDAKTA, VIDA založba, OGNJIŠČE, FRUCTAL, TKK Srpenica, TITUS, ILIRIJA, DZS, Planinska zveza Slovenije, Lovska zveza Slovenije, MAHLE, ETA Kamnik, RECCOM, Pomorski muzej Piran, MGS PRESS, EDICICLO EDITORE, založba MLADIKA, BEISLER EDITORE,…
Turnover in 2022 in millions
Annual paper consumption in tonnes